News
Launch of the new voluntary Lipoedema Registry, in support of Lipoedema UK
Lipedema Foundation Registry (LFR) is an online registry established to help our lipedema community, including affected individuals, families, clinicians, and researchers. Its goals are to: learn more about lipedema; understand barriers to diagnosis; better manage symptoms; assess quality of life impact; and develop new treatment approaches.
The Lipedema Foundation (LF) has developed an "Initial Survey" that should take approximately 60 minutes to complete. It will help provide direction for what types of research we should fund next. It will ask for basic health information (such as "Have you been diagnosed with lipedema by a physician?") and for specific information related to current research (such as "Are you allergic to iodine?"). The Initial Survey also requests information that may involve more work than just answering questions (such as "What is your hip circumference?"). You do not have to answer all questions.
The registry platform works best on computers or laptops. For added security, you may wish to access the Registry using the Google Chrome browser and registering with a Gmail address.
In the future, LF will develop additional surveys that will include more detailed questions around topics such as: Treatments, Family History, Path to Diagnosis, Symptoms, and Co-morbidities. Over time, the registry may grow to include integrations with clinical teams, research teams, biobanks and/or genetics repositories.
LFR is a program of the Lipedema Foundation (LF) and has been developed with the help of patients, consultants at RTI, clinicians, researchers, lawyers, and people who work at the platform's company, REDCap Cloud. We especially want to thank people and teams whose surveys came before ours: LipoedemaUK, Dr Karen Herbst, Tilly Smidt, Vanderbilt UMC, Joanna Dudek, and others.
LNNI launches apps for professionals and service users
© LNNI Healthcare Professional Calculator App
This App was created in partnership with the Ulster University in recognition of the lack of consistency in calculator models and availability of remote access. 
It is designed for healthcare professionals to:
ensure regional practice is supported by a consistent limb volume and Body Mass Index (BMI) calculation format
have available access to calculations by PC, phone or tablet
reduce the cost of purchasing and up-keep of current limb volume calculators/software
A set of guidelines has been developed to support initial use. Download the guidelines here. Please note that HSCNI/NHS users may not be able to download this file at work due to security restrictions, so please do so from a home computer. Instructions on adding the APK file to your Anroid mobile/tablet device can be found here.
This App was developed in 2019 by the Lymphoedema Network Northern Ireland (LNNI), in partnership with the Ulster University, and is legal property of LNNI. Copyright LNNI 2019.
---
© LymEx App – support for those with lymphoedema
Accessed from the App Store (free)
LymEx has been created by someone with lymphoedema to help others with this condition.
Patient information leaflets developed by the Lymphoedema Network Northern Ireland (LNNI) have been re-created in an e-format to be freely available via all tablets and phones.
The App includes guidance on:
The 4 key messages to support self-care
Skin and nail care
Simple lymph drainage (arm, leg and head & Neck)
Garment use and care
Exercises to encourage good lymph flow (arm and leg)
Copyright LNNI 2019.
LNNI staff support the national Legs Matter campaign
A Great Big Week For Legs & Feet' - first Legs Matter Awareness Week kicks off June 3-7 2019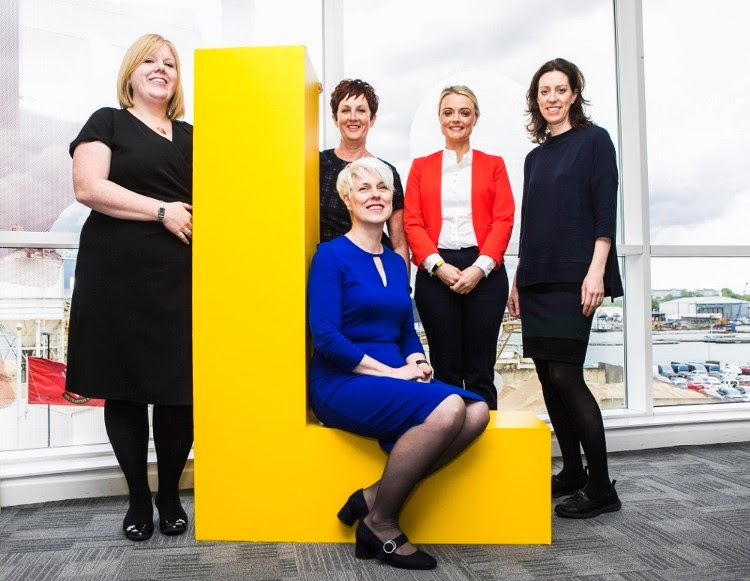 Every two hours in England, someone loses their leg due to a non-healing wound -  'A Great Big Week For Legs & Feet', the first, national Legs Matter Awareness Week, June 3-7, is being held to urge people to 'stand up' to one of the UK's biggest health challenges.
Each year, it is estimated that more than a million people in the UK suffer from serious leg and foot conditions and the resulting delays to correctly diagnose and treat them can cause unnecessary suffering, disability, amputation and even death.
Now a group of the UK's leading lower limb clinicians, led by the Tissue Viability Society, have joined forces to encourage people to check their legs and feet, to get medical help fast and to highlight what level of care patients have a right to.
Costing the NHS up to £5.3 billion annually, leg and foot ulcers, oedema (a failure of the lymphatic system), narrowing of the arteries and other serious problems need to be treated quickly and correctly to reduce the risk of non-healing wounds, secondary health problems and deteriorating health.  An NHS England study estimates that having effective care early, reduces leg ulcer healing times from around two years to just a few months and is 10 times cheaper. But many patients suffer unnecessarily for several years due to a lack of knowledge and not accessing the right care.
Mum-of-two Tracy Goodwin's leg ulcer was so painful and debilitating, that at one point she asked doctors to amputate her leg.  Now as part of Legs Matter Awareness Week , the 39-year-old from Wakefield is urging others to seek medical help if they are worried.
She said: "I developed blood clots in my leg when I was pregnant, which led to me developing ulcers. At my lowest point, they affected every part of my life and the pain got so bad I even asked for my leg to be amputated. Instead they performed a deep vein transplant, which helped ease the pain.
"People should seek urgent medical advice if they think something is wrong with their leg or foot because I delayed going to see the doctor as I didn't realise I had an ulcer."  
Supported by NHS England, a group of eight health care charities and not-for-profit organisations have come together to tackle the issue. As part of this, they have produced an online checklist for people, including health care professionals, to recognise the signs and symptoms of lower leg and foot problems.
Leading clinicians from The Tissue Viability Society, The British Lymphology Society, Accelerate CIC, The College of Podiatry, The Society of Vascular Nurses, The Lindsay Leg Club Foundation, Foot in Diabetes UK and The Leg Ulcer Forum have formed Legs Matter and want to ensure that anyone with a lower leg or foot problem understands their condition and gets the urgent care and support that they need. 
A patient will encounter a number of people along their journey to diagnosis and treatment – from the pharmacist, to the practice and community nurse, to the GP and beyond. The Legs Matter coalition want to make sure that every person, including the patient, has the information that they need to take the best steps towards healthy, pain-free legs and feet.
Legs Matter chair Dr Leanne Atkin, who provides clinical care for Tracy, is urging people to play their part by checking their own and others' legs and feet for 10 possible problems including swollen, tender legs or sores that won't heal and to get involved by holding their own 'Legs Matter Natter', to take action with the 'Legs Matter Pledge' and by 'Sharing Your One Big Thing' - one important fact people wished they had known earlier about leg and foot health. 
The vascular nurse consultant from Pinderfields Hospital, Wakefield said: "There are more than a million people suffering with lower leg and feet disorders - many of which are life changing. These conditions are often overlooked by patients, carers and clinicians. We are passionate about changing this. 
"We want people to check their own and others' legs and feet and to speak to a pharmacist, nurse, podiatrist or GP if they are concerned. Getting early treatment makes all the difference and prevents the condition becoming more serious." 
You can find top tips for leg and foot health in the Legs Matter leaflet and order a free Action Pack.  Let us know what you're up to and what you've pledged on Twitter or Facebook using the hashtag #legsmatter, or drop us an email.
British Journal of Nursing Awards 2019 success for SEHSCT Team
2nd prize in the 2019 BJN Chronic Oedema award was presented to Vivienne Murdoch for her role in the SEHSCT's project looking to educate GP Practice nursing teams within the trust area. The aim was to ensure that all patients with simple chronic oedema in each practice were identified, correctly diagnosed and managed, and that the permanent staff in each practice gained a full knowledge of simple oedema management. Additionally, those identified with more complex oedema were referred to the lymphoedema team. 
The project ensures correct management of each patient according to hierarchy of need, reduces actual GP footfall and ensures improved prescribing and therefore financial prudency.
The project was funded in partnership by the SEHSCT and the Local Commissioning Group, and has successfully received a 2ndyear of project funding.
The other team members were Helen Creighton (Pharmacy) and Pippa McCabe (lymphoedema).
Well done SEHSCT team!!
Lymphoedema Awareness Week(LAW), March 2019
International Lymphoedema Awareness Week (LAW) is held in March each year and is an opportunity to help share information about what lymphoedema is  and how it can be managed. The Belfast Health and Social Care Trust Lymphoedema Leads Jill  Lorimer and Gillian McCollum created 2 videos to share this message. Jill talks about the conditon and this is followed by one the trust's services users describing living with lymphoedema.
The press release link is: http://www.belfasttrust.hscni.net/3198.htm  
The National Lymphoedema Partnership (NLP) utilised LAW to launch the new national lymphoedema commissioning guidelines in Westminster.
The event was hosted by Ms Tonia Antoniazzi MP. LNNI is a core member of the NLP group and was actively involved in the sharing of multi-media messages in the run up to this event.
The National Lymphoedema Partnership (NLP) launch of the new commissioning guidelines
The NLP celebrated the launch of the new UK lymphoedema commissioning guidelines at Portcullis House, Westminster on 5th March 2019. The event was hosted by Ms Tonia Antoniazzi MP.
The NLP is a strategic forum for those directly/indirectly involved in supporting patients diagnosed with lymphoedema, and a platform to discuss and work towards improving patient outcomes, service provision and availability of standardised care within the UK. The South of Ireland is also a stakeholder due to its close proximity and the potential for "Crossborder healthcare and patient mobility in Europe" as a result of 2014 EU legislation.
NLP Aims:
To facilitate a shared understanding of lymphoedema service provision and its impact upon the patient, services and society within the UK/Eire.

To identify, discuss and address issues of common concern and avoid unnecessary duplication of effort

To exchange ideas, strengthen skills and share examples of good practice

To work with stakeholders and organisations in the development of national lymphoedema guidelines for services provision in the UK/Eire.

To influence external agencies in the recognition/impact of lymphoedema/chronic oedema, and to improve service provision/facilities
The key launch messages:
Lymphoedema is a common, under-recognised condition, and often mismanaged in the community
Treatment will improve quality of life and prevent complications, including recurrent infections
Lymphoedema treatment must be made available by all Commissioning Groups to improve care and save money
More than 420,000 people in the UK are living with Lymphoedema
It is as common as Alzheimer's disease, 4 times as common as HIV, and 12 times as common as Multiple Sclerosis
1 in 5 women with breast cancer will get it
Lymphoedema is associated with many health problems if left untreated:

cellulitis infections, often needing hospital admission
wounds and leg ulcers, Mobility problems, pain, psychological issues...
Management of complications is costly to the NHS

Early diagnosis and treatment is vital for achieving the best outcomes for the patient and the NHS
Cellulitis causes 400,000 bed days per year in UK - costing more than £254 millionper year
The introduction of a London lymphoedema service created 94% decrease in cellulitis incidence, with 87% reduction in hospital admissions that year
Potential NHS saving of more than £200 million per year (England figure) if we can deliver lymphoedema care to everyone
What needs to happen next:

Sufficient numbers of Lymphoedema treatment clinics within every CCG (England) and across the UK
No discrimination between cancer-related and non-cancer related Lymphoedema. Equity is essential
This will improve care and save £millions for the NHS
Launch and acceptance of the NLP Commissioning Guidance for Lymphoedema Services
Joint working with the NLP and Commissioning Groups
The NLP's 2019 UK Lymphoedema Commissioning Guidelines and key point summary
See attached documents for full details.
2nd All Ireland Lymphoedema conference announced
LNNI is delighted to announce that the 2nd All Ireland Lymphoedema conference will be held on 13th November 2019 at An Grianan near Drogheda. Further details and applications forms will follow. Our 1st keynote speaker is Ms Rebecca Elwell who will present on dermatological conditions and how they impact on our care provision.
The Legs Matter coalition launches national campaign to raise awareness of lower leg and foot health
The Legs Matter coalition launches national campaign to raise awareness of lower leg and foot health
A national campaign to raise awareness of a significant but largely hidden health challenge was launched in Newcastle today. The Legs Matter campaign is designed to get the nation thinking and talking about, and taking action on leg and foot conditions, including non-healing wounds, varicose veins and oedema.  
It comes as research shows that the annual cost to the NHS of managing non-healing wounds is estimated to be up to £5.4 billion. Leg and foot conditions have also been shown to lead to loneliness and depression if people do not get the correct care. Despite this, conditions of the leg and foot do not currently receive the care or attention they urgently need. The campaign (which features real people living with leg and foot conditions) and sets out to change that. 
The campaign is led by a coalition of eight healthcare organisations including The Tissue Viability Society, The British Lymphology Society, Accelerate CIC, The College of Podiatry, The Society of Vascular Nurses, The Lindsay Leg Club Foundation, Foot in Diabetes UK and The Leg Ulcer Forum. The organisations have come together to make sure that anyone with a lower leg or foot problem understands their condition and gets the urgent care, attention and support they need.
Dr Una Adderley, Lecturer in Community Nursing at the University of Leeds and Tissue Viability Society Trustee, says: "We want the Legs Matter campaign to raise awareness of leg and foot problems and help people get the care and support they need. Our aim is to help doctors and nurses understand what these patients need and at the same time raise this issue as a commissioning priority for those who organise healthcare services." 
The campaign is asking the public to stand up for their own leg and foot health by paying attention to their legs and feet, going to their pharmacist or GP if things aren't looking right and demanding better or different care if your leg or foot isn't getting better.
The campaign is also calling on healthcare professionals to recognise the signs and symptoms of lower leg and foot problems, talk to their patients about their lower leg and foot health and lobby for better services for patients. 
The Legs Matter collation will also be working with NHS decision-makers to increase awareness of how much inadequate leg and foot care costs the system, and to focus on shaping a system that makes legs and feet a higher priority.
Sources: To access campaign materials assets: https://www.dropbox.com/sh/96u4q3zm300y8dz/AAB2ZOiqjQVuTkzAZGt0bcCja?dl=0
National Institute for Health Research (NIHR) study conducted by Professor Julian Guest ii Briggs, M. & Flemming, K. 2007. Living with leg ulceration: a synthesis of qualitative research. Journal of Advanced Nursing, 319-328.
British Lymphology Society Conference, October 2018
Pages